Bitcoin (BTC) Price Prediction: BTC/USD Is Set for More Upside Momentum as Bitcoin Holds Above $54k
Bitcoin Is in a New Uptrend as Bitcoin Holds Above $54k- October 12, 2021
BTC/USD – Daily Chart
Since October 6, Bitcoin bulls have been making concerted efforts to push BTC price on the upside. The bulls breached the resistance at $56,000 after five days of a downward correction. BTC price rose to the high of $58,000 as buyers faced another rejection. Bitcoin retraced after rejection from the high of $58,000. The crypto fell to low above $54,000 and pulled back. A long candlestick tail is pointing to the current support at $54,000. The long tail indicates that there is strong buying pressure above the $54,000 support. BTC price is rising to revisit the previous highs. The Relative Strength Index indicates that Bitcoin is at level 55. This implies that the crypto is in the bullish trend zone and has room to rally on the upside.
Swiss Think Tank Proposes Addition of Bitcoin in Federal Constitution
2B4CH is a Swiss non-profit think tank that is launching a proposal that could make Bitcoin one of the country's reserve assets. The body will assist the state in exploring cryptocurrencies like Bitcoin and blockchain technology. According to 2B4CH founder, the association will bring crypto education to people who are not yet Bitcoin-friendly. The body intends to collect 100,000 signatures for the introduction of Bitcoin to article 99 clause 3 of the Swiss federal constitution.
The 2B4CH's founder and chair Yves Bennaim said : "If the signatures are gathered successfully, the vote will legally have to happen, and so will the conversations and debates, eventually informing and educating better everyone in Switzerland, and hopefully worldwide, as we set the example," Bennaim said. "We hope the vote will be successful, but even if it isn't, it will already be a success if the topic is brought to the public debate," he noted. Also, the association indicated that if the vote is successful, the Swiss National Bank, or SNB, will need to learn how to add Bitcoin into its reserves. Besides, the founded indicated that: "Such an addition to the constitution would affect people in Switzerland in a similar way the Silicon Valley and the London Stock Exchange have benefited the people of their respective countries."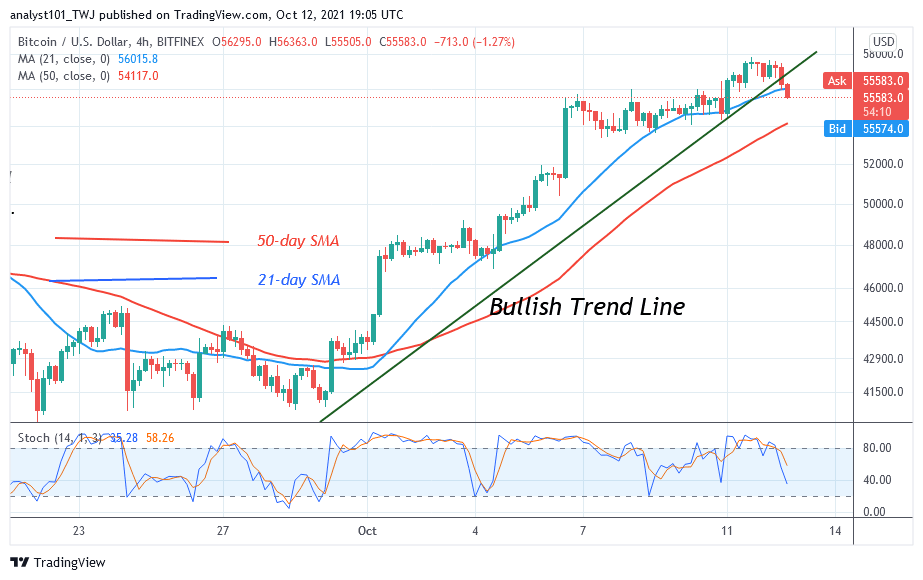 Meanwhile, BTC's price is rising to revisit the previous high of $58,000 as Bitcoin holds above $54K. In the previous price action, buyers were repelled at the $58,000 high. Bitcoin will rally above the $60,000 psychological price level if the current resistance is breached.
Looking to buy or trade Bitcoin (BTC) now? Invest at eToro!
67% of retail investor accounts lose money when trading CFDs with this provider
Read more:
•                 How to buy Bitcoin
•                How to buy cryptocurrency